Kirby Cothren, a 7th grader, learns which finger does what in Mrs. Whillock's keyboarding class. #SmallTownProud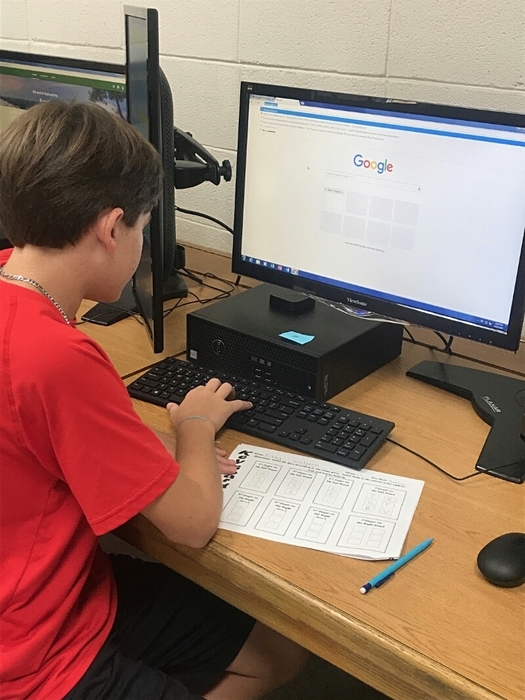 World History student Alex Southerland reviews eras of history by making a lap board in Patreca Hutson's class. #SmallTownProud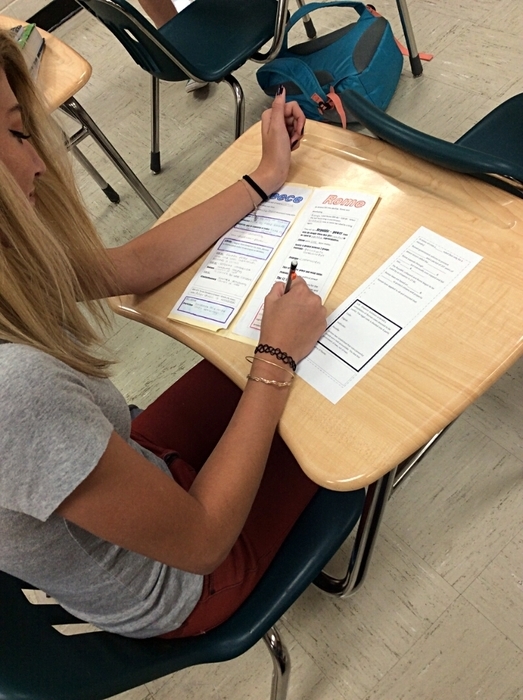 Chemistry students in Phillip Ramsey's classroom, (from left) Faith Birmingham, Haley Antonacci, Dawson Gardner, and Levi Haile, present their finished Wall Project, which involved making something science-related to put on the wall and they will be replacing the project each nine weeks. #SmallTownProud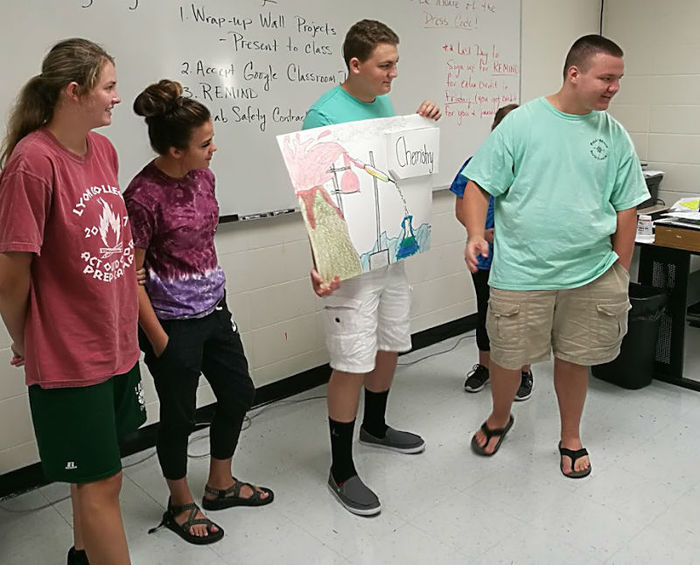 Hannah Long (left) and Sarah Smith make a pinhole viewer for the #GreatAmericanEclipse on Monday. #SmallTownProud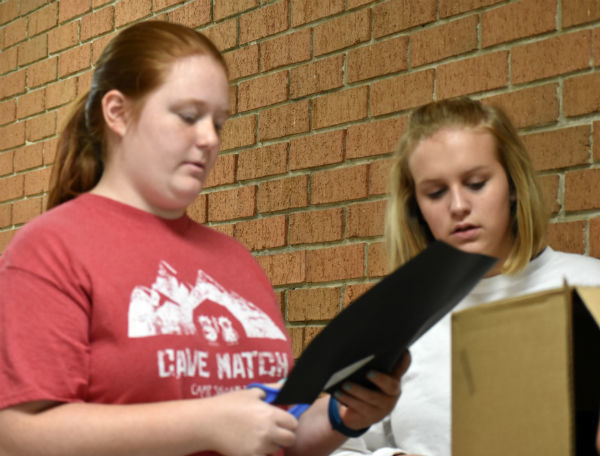 Today's High School events: None scheduled

Good Morning! This reminder for boys in grades 1-5. Tonight: School Night For Scouting Join Scouting Night at 6:30 pm in the cafeteria.

Today's High School events: 1. Golf match, Tannenbaum Golf Course, 3:30 p.m.

Please remember that the following WSE K-6 permission slips are due Friday : Little Dribbler, Pee Wee Basketball, and School Day at the Fair. Students will not be able to call home about forgotten permission slips so please make sure they're returned by Friday. Thanks! Mr. Long

Today's High School Events: None scheduled

Permission Slips for the Cleburne County Fair are due back to your child's homeroom this Friday, August 25. Thanks!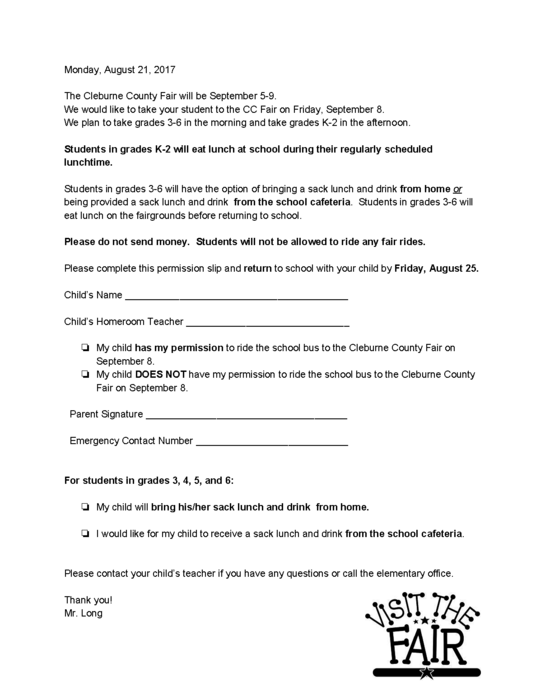 Today's High School Events: 1. Viewing of the eclipse 2. Golf match at The Links at the Rock

Thanks everyone for helping to make our first week of school so great! A reminder that we've sent home information on our fundraiser that runs now through September 6 and a permission slip for grades 2-6 to be able to view the eclipse Monday. We will provide certified visionware for those students allowed to view the eclipse directly. We will also be streaming live coverage of the eclipse throughout the day in the classroom. Also, next week we will be sending home permission slips for k-6 to attend the Cleburne County Fair on School Day. We will also be sharing log-in credentials for the Home Access Center soon. Have a great weekend & remember we appreciate you! Mr. Long

August 17, 2017 Dear West Side Elementary Parents, We are kicking off our annual WSE K-6 Fundraiser activity from School Partners which focuses on the sale of delicious food products including cookie dough and other sweet treats. This fundraiser will last 2 weeks. The proceeds from the School Partners' fundraiser we are starting today will go toward offsetting the cost of the elementary recognition and good behavior incentive activities. For example, students who meet the behavior (Dojo) requirements are eligible for special activities each 9-weeks and semester, which have included a trip to the movies in Heber and a trip to Hog Wild in Conway. The end of year incentive has included a trip to Camp Bear Track. The proceeds will also go toward the purchase of academic recognition items which have included trophies, medals, water bottles, etc. The cost of our end of year field day and water day activities will also be offset by the money we earn through this fundraiser. We hope you will be able to help your child sell the quality products from School Partners to your friends, neighbors, coworkers and family. STAY TUNED FOR MORE INFORMATION ON K-6 GROUP INCENTIVES! If you have any questions, please give us a call. We appreciate you!

Adult Education Classes Coming to West Side! Adult education classes will begin at West Side August 22nd. They are free to participants! If interested, please call Mrs. Sherry Organ @ 501-207-6291.

Are you interested in becoming a substitute teacher, or do you know someone who is? If so, please go to
www.pcmiservices.com
to apply now!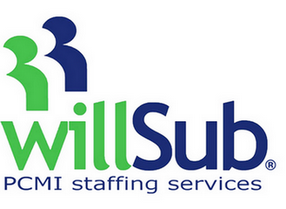 Check out what is new in the West Side cafeteria!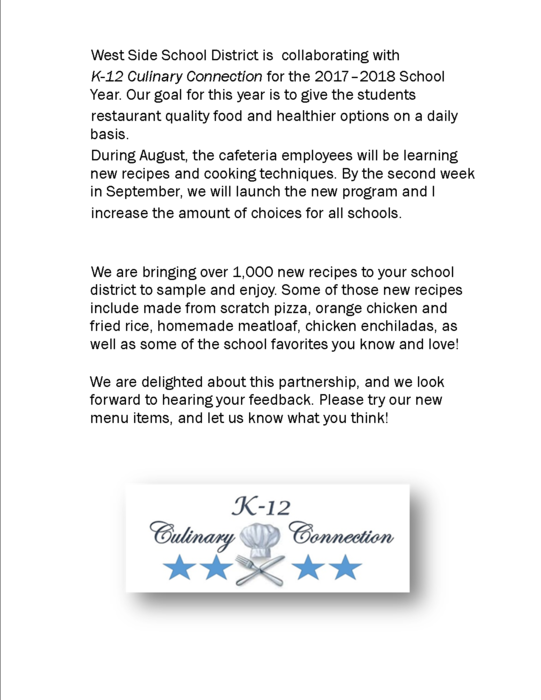 Evening! We are looking forward to seeing all of our WSE Eagles tomorrow! If you are bringing your child into school in the morning, please remember to allow extra time and park in the elementary or high school parking areas. Parents of children in our early childhood program will be signing their child in and out of their classroom each day. Should we experience traffic congestion, please remember to be courteous.School staff, including our school resource officer will be on hand to ensure the safety of our students and parents. We are looking forward to having a great first day of school in 2017! Thanks! Mr. Long

Pee Wee Basketball (grades 4-6) and Little Dribblers (grades k-3) permission forms are due no later than Friday, August 25 in order for your child to participate. Forms will be sent home the first week of school. Thanks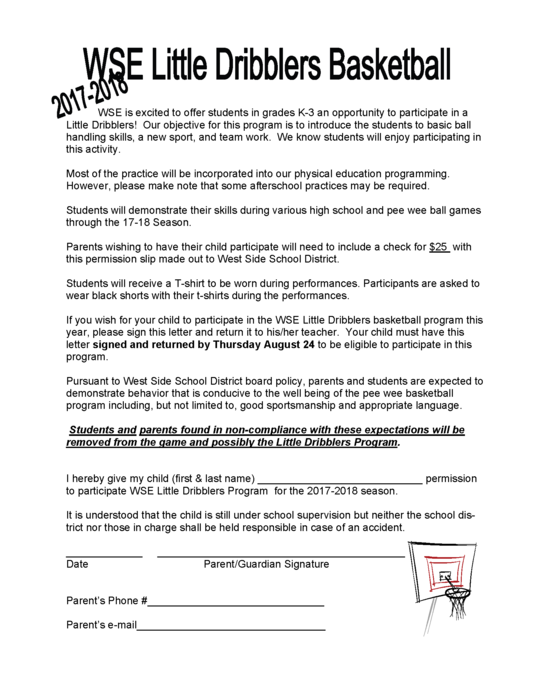 Morning! Just a reminder parent orientation this pm. Session 1 begins at 5:30 and session 2 begins at 6:30. Early Childhood Parents are also included and are asked to be here at 5:30 for their special orientation activities in the early childhood classroom.Thanks! Mr. Long

Parents of juniors, a parent meeting will be held on the evening of Open House at 7 p.m. Thursday, Aug. 10, in Ms. Holly's classroom. Information that will be covered will be Back to School Dance, Fall Festival, Homecoming, ACT Dates, and Prom.