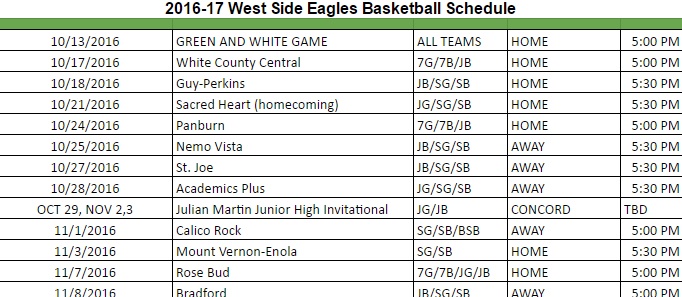 West Side's basketball schedule lists two tournaments at home this season, and the junior and senior high teams are part of an expanded conference that puts Class 2A Pangburn back in the regular-season junior and senior high conference schedule. Also, the Green and White games — the intrasquad kick-off to the season — will be played Thursday, October 13.
The Green and White games begin at 5 p.m. with seventh-grade girls and continue through the senior boys game. Admission is
Grade 7-9 grade basketball parents: laundry detergent (liquid or pods), dryer sheets, or hand towels
Grade 10-12 basketball parents: a $4 minimum donation, which will be split evenly between girls and boys basketball, to help with purchasing team T-shirts, long-sleeves shirts, backpacks, run-out pants, and shirts.
The ticket price of regular-season home games is $4 for adults and $3 for students — West Side students are admitted free. Other schools determine their ticket prices. The Arkansas Activities Association sets the admission cost of regional and state tournament games.
Home season passes for basketball games are available now through the superintendent's office. The cost is $50; the cost for a pass that includes softball and baseball is $75. Season passes will also be sold at the Green and White games and other home ballgames.
For the two-year cycle beginning in the fall of 2016, West Side is a member of the 1A-2 South basketball conference with Bradford, Concord, Midland, Shirley, South Side, and Timbo.
For this cycle, the AAA agreed to let schools to play in "expanded" conference with approval of the superintendents in the state. Pangburn successfully petitioned to play in the 1A-2 South conference; in senior high, their teams will return to 2A-4 East district tournament while their junior high teams continue in the 1A-2 South district tournament play.
Although members of 1A-2 South, Bradford and South Side High School will face 1A-2 South members in nonconference games during the regular season and rejoin the 1A-2 South for the district tournament. As a result, the Bradford and South Side regular season games will be nonconference.
Key dates on the basketball schedule:
Homecoming vs. Sacred Heart, Oct. 21
Julian Martin Jr. Tourney, Oct. 29
First Conference game, Nov. 15
White County Invitational, Nov. 28
Midland Tournament, Dec. 3
Junior High Lake Classic, Dec. 5
Senior Lake Classic, Dec. 27
Junior District, Feb. 6
Senior Night, Feb. 7
Senior District, Feb. 13
The basketball schedule is available at https://goo.gl/U3QcgC.