​Welders to the Top 6 — Again!
West Side Staff
Tuesday, November 15, 2016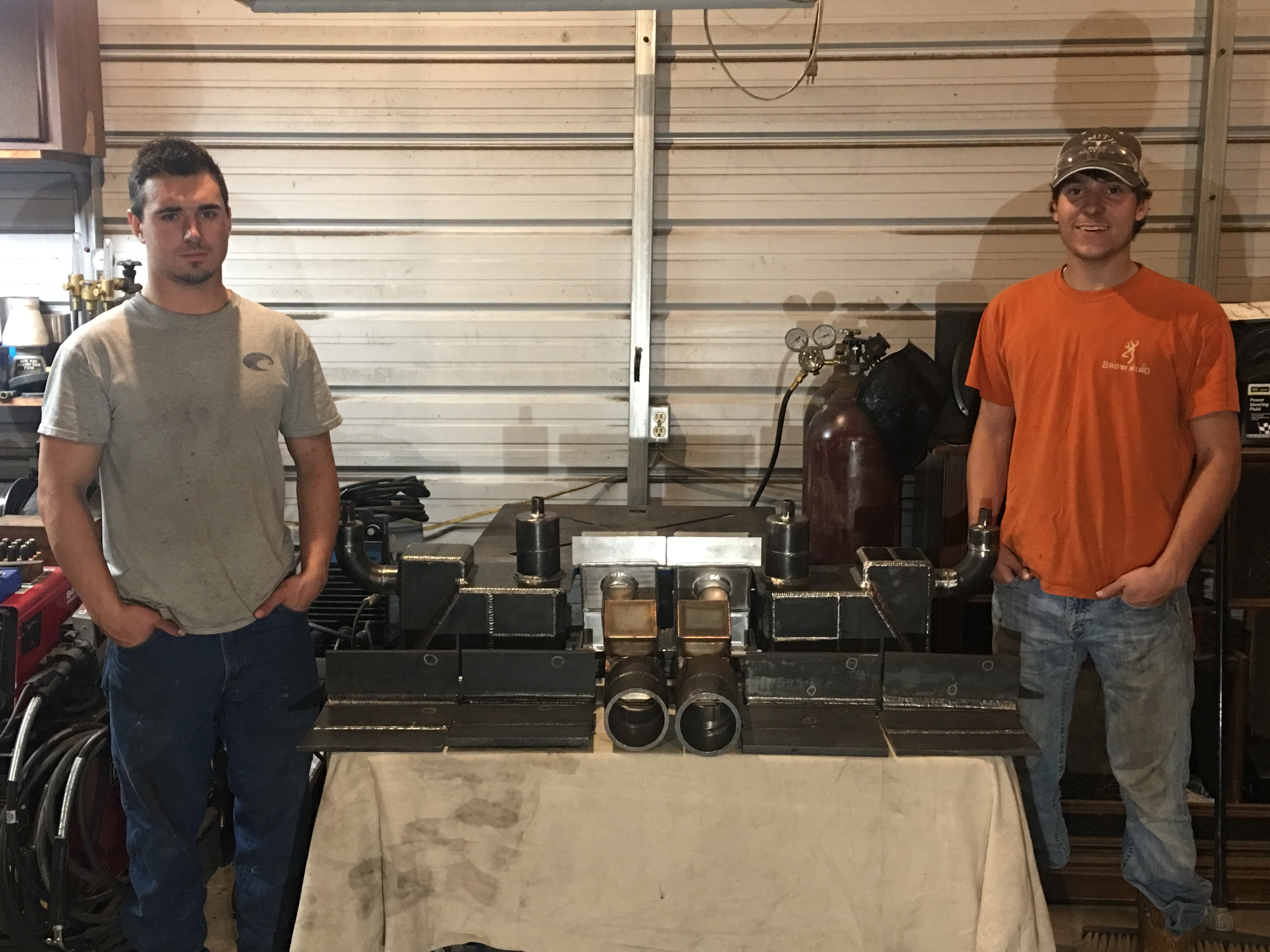 West Side graduates Blaine Hipp and Jacob Miller learned this week that they finished in the Top 6 of SkillUSA welding competition and will compete in Huntsville, Ala., to determine who will represent the United States in WorldSkills competition.
For the past eight weeks, they have worked with Randy Carr, a welding instructor at West Side High School. They have put in countless hours building projects and sending them to various locations where they were judged by welding experts. Simultaneously, 60 other welders, many of whom were state champions from across the United States the past two years, were doing the same thing.
"I am very proud of these two young men and the way they have represented our school and our state," said Carr.
This is the second time Miller has reached the Top 6; he made it to the Top 3 in 2015 competition and placed third, just 6-½ points away from first place. For Hipp, it is the first time.
Because of the quality of the welding projects, they advanced to Round 2 against the Top 6 welders. The Top 3 will advanced to Round 3, where one welder will be chosen to represent the USA in WorldSkills competition in Abu Dhabi in 2017.
"As far as I know, we are the only school in Arkansas to ever get this far, and now we have made it with 2 students."
As a matter of fact, to Carr's knowledge, only four students from Arkansas have qualified for the welding pre-trials Aaron Carr, Dylan Thomas, Miller and Hipp — all former students of West Side and ASU-Heber Springs. Randy Carr, Aaron's uncle, was the high school welding instructor of all four. Aaron and Randy are now welding instructors at ASU-Heber Springs.
During the first round, Miller helped Hipp out all during the process with setting and techniques that he learned through the process in the 2015 competition, according to Carr.
"It takes a lot of money, hard work and dedication to do this competition. Jacob works a full-time job and then works on the competition at night sometimes not getting home until midnight or after and then gets the next morning and drives and hour to work everyday," he said. "Blaine is a full-time student at ASU Heber Springs and works a part-time job again putting in long hours as well."
Their projects consisted of two test plates, 2 T-joints, 5G pipe, aluminum, stainless steel and a pressure vessel that had to hold 1,000 psi.
During Round 2 in Huntsville Dec. 3-6, they will be welding in live competition under time constraints. The Top 3 welders will advance to Round 3, where they spend a week of training with welding experts who help them with various techniques on projects and explain the judging aspect as well. Again, the competitors build the projects live and under a time crunch before judging.
"If you see them around town, wish them luck," said Carr. "We have had a great support staff behind us so far, and we hope that one of these two will be the one to represent the USA in the WorldSkills finals in October. To God be all the glory."
Pictured: Jacob Miller (left) and Blaine Hipp with final projects before they were shipped for judging.