Guide to using the school's website and mobile app
Curriculum Coordinator Matt Irwin
Saturday, January 30, 2016
West Side School District's redesigned website and newly launched mobile application are designed with two primary considerations: Simplicity and Improved Communication. Whether a parent, community member, or student, if you haven't visited the website or app recently, please do so and let us know what you think. The district web address remains www.westsideeagles.org
It is worth noting that the app is simply the newest among other forms of communication. We still enjoy phone conversation and postal mail, and we continue to utilize the marquee in the circle drive, School Messenger calling system, email messaging, Facebook, Twitter, and in-person visits to the elementary and high school offices.
An advantage to the website and mobile app is that multiple platforms can be updated simultaneously.
This article is intended to introduce to patrons the features of the West Side website and app.
The website and app design are intentionally similar so that locating information will be the same on both platforms. The dark green Eagle logo readily identifies West Side School District. The menu options — Live Feed, News, Events, Athletics, Staff, Dining, Settings, and Documents — give logical descriptions for various types of information.
Live Feed — A scrolling feed of short news and timely information, sometimes with photos or graphics
News — Longer news items that are not necessarily time-sensitive, sometimes with photos or graphics
Events — Calendar of events for items of interest to the public. From location-enabled devices, a clickable link will provide directions to the venue
Athletics — Only a list of scores from athletic competitions
Staff — Listing of some phone numbers, some website pages, and all email addresses for district employees
Dining — The daily menu for breakfast and lunch
Settings — Users can turn on or off the "push" notifications, which pop up automatically on mobile devices; this feature is used sparingly for important, time-sensitive information
Documents — Handy resources, such as the times of Frosty Route bus stops
To view the Menu sections, simply click or tap the word "Menu." On the app, you can also right-swipe the opening page.
On the website, users can quickly access the latest Live Feed, News, and Events by looking below the photo splash. Those three sections are aligned in columns with the most recent posts at the top. By clicking "See All," the entire list of items is shown for the section. To narrow the results of the section, users can filter the results to Elementary School or High School.
The mobile app is available at The App Store for Apple devices and at Google Play for Android devices. Search for "West Side AR" and look for the district logo.
The look of the website and app in screenshots below: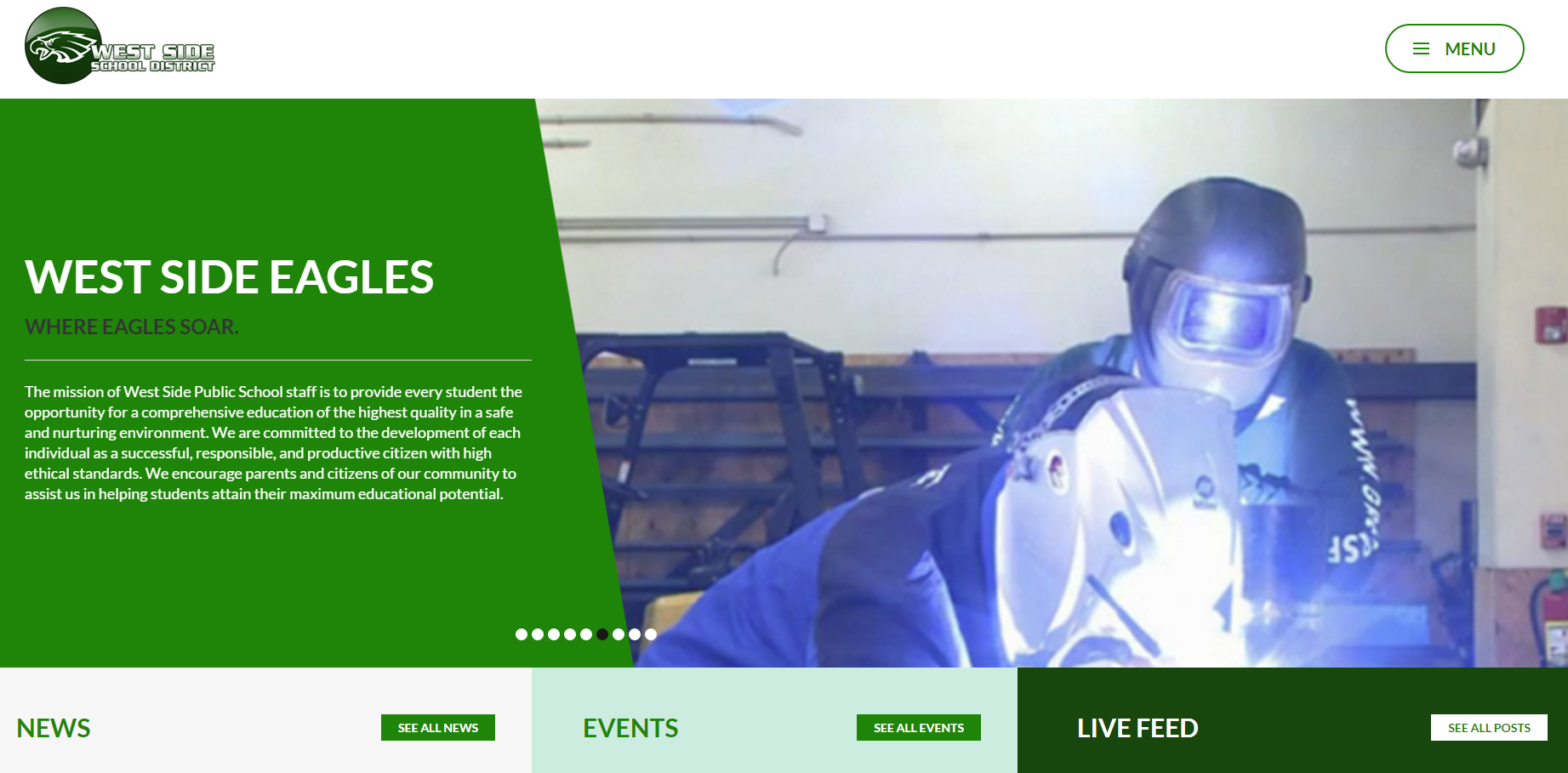 WEBSITE: The district web page with expandable menu in top right corner.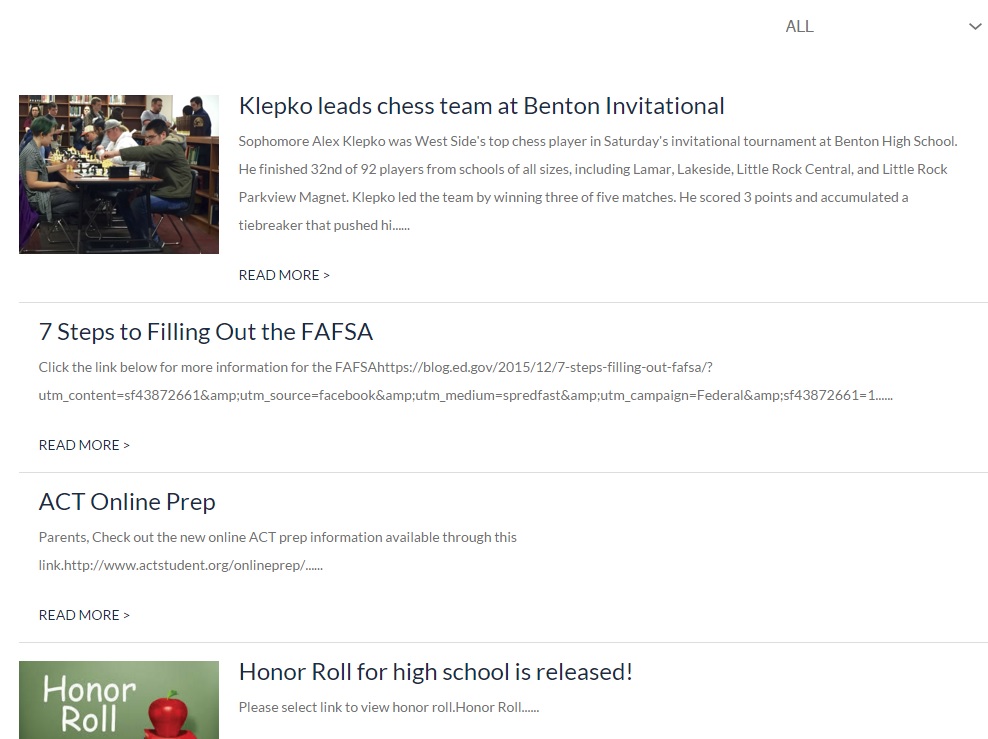 WEBSITE; The News section . . .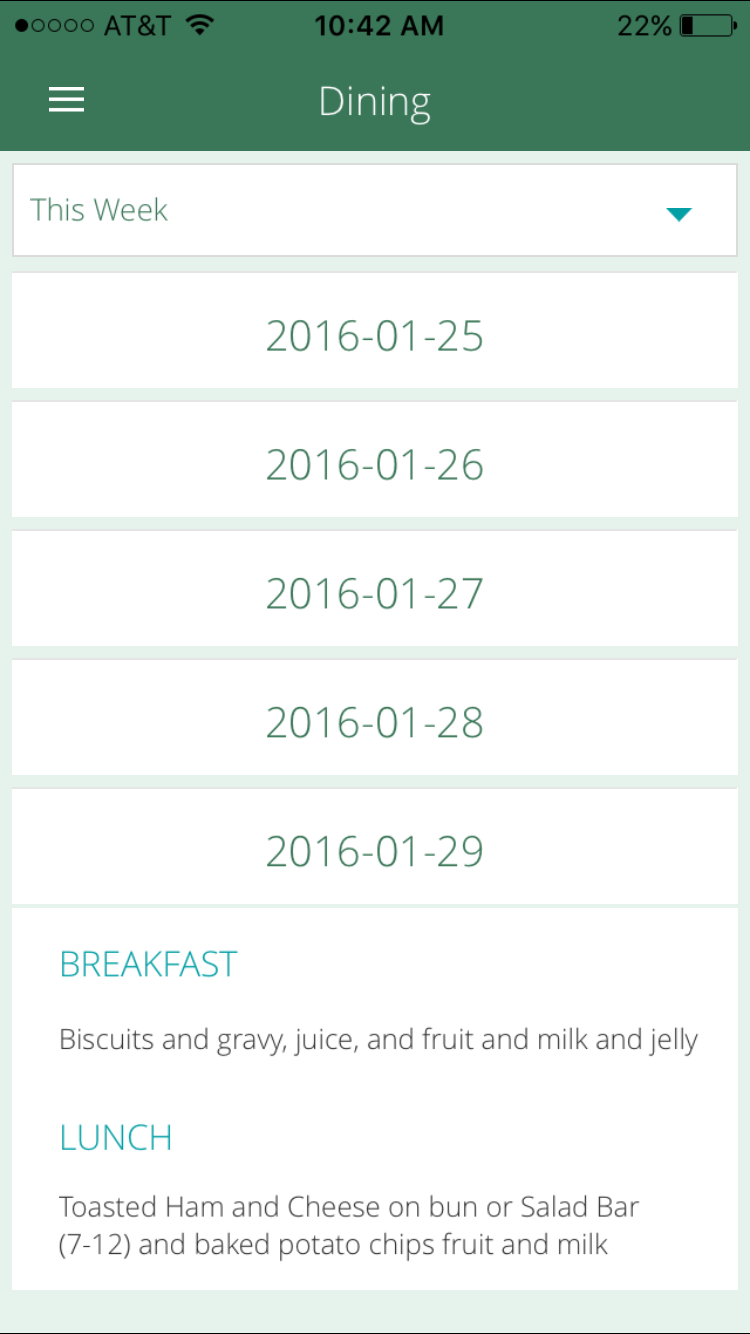 MOBILE APP: A screenshot of the Dining section with Jan. 29 menu shown